I received this Dermalogica's Daily Microfoliant, as a Christmas' present. These Microfoliants are gentle and efficient exfoliation products that remove dead skin cells and leave your face feeling refreshed and beautiful.
---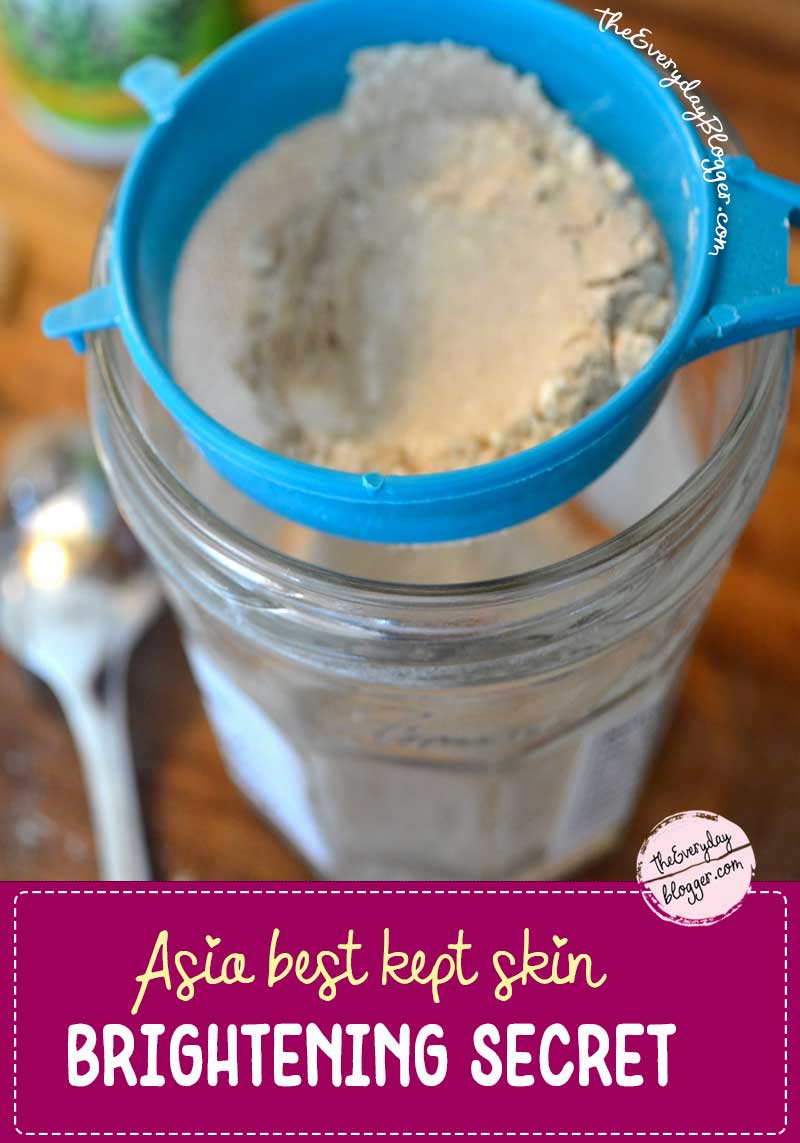 I tried using this microfoliant and boy, it made my skin feel supple and incredibly soft. See, many microfoliants contain natural substances like rice powder, oatmeal, and licorice root. So, I thought to myself – why not try to recreate the formula minus the additives and the preservatives?
I rolled up my sleeves, and several unsuccessful attempts later, I managed to create the perfect DIY micro-foliant that matches the quality of the commercial exfoliation products. After a month of using this DIY facial wash, I wished had discovered this long time ago.
There's no exact rule on how you will use this mixture, but I preferred mine to use it as my daily facial cleanser, and this routine works best for me (I swear). I also added goat's milk powder (instead of regular milk powder but it is only me).
This milk is quite different from the more typical cow's milk. It has a pH that is similar to the one of the human body. As a result, goat's milk is tolerated better and absorbed quickly by the skin. Still, you can opt for whole fat milk powder if goat's milk powder is not available.
---
Benefits of This Facial Wash
Removes dulling surface debris and evens skin tone.
Reveals brighter, smoother skin.
Gentle enough for daily use.
The recipe is very simple, and it relies on the power of three basic ingredients to clean and soothe the skin at the same time. All of the ingredients have amazing qualities, so keep on reading to find out how they act on your skin.
---
Why These Ingredients
Ingredient
1
Whole Milk Powder
Whole milk is included in the formula of numerous hydrating and soothing masks, lotions and conditioners. It contains essential proteins and lipids that both your hair and your skin will love.
Also, milk powder contains lactic acid. Lactic acid is a very gentle and efficient type of exfoliant. It gets rid of the dead skin cells; it stimulates the regeneration of the skin and the production of collagen.
Helps to even out skin tone and diminish scars. After using goat's milk powder on your skin, you will feel that it has become cleaner, smoother and younger.
---
Ingredient
2
Rice Powder
Rice powder/ flour is another ingredient that is used because of its exfoliation qualities. It has been used in Asian beauty recipes for centuries.
Apart from having the ability to remove dead cells and bacterial buildup gently, rice flour can also be used to control acne and to reduce the prominence of scars and marks.
The flour is an excellent source of para-aminobenzoic acid (PABA). PABA protects the skin against the harmful influence of sunlight. Allantoin and ferulic acid that is found in rice flour have similar qualities.
Rice powder is rich in a complex of B vitamins called 'inositol' that helps promote cell growth slows down the aging process and stimulates blood flow – the perfect recipe to tighten pores and bring a glow to the face.
---
Ingredient
3
Oats Flour
Oat is known for calming inflamed skin. It also acts as a gentle exfoliator for your skin that I believe is safe enough to use on a daily basis.
---
Ingredient
4
Licorice Root
Licorice root is the final ingredient of this gentle, yet very efficient cleaning paste. Licorice root has soothing, anti-inflammatory qualities and is often used in skin-brightening products.
If you suffer from acne on a regular basis, or you are combating eczema, psoriasis or dermatitis, licorice root will do miracles for you.
Finally, licorice root controls sebum production and is especially suitable for the ladies that are dealing with issues like oily skin.
Excessive sebum production could be a contributing factor to acne breakouts, which is why the addition of licorice root to the skin cleanser will give you the chance to enjoy imperfections-free face skin.
---
Now let's create the recipe
Ingredients you'll need:
rice bran/flour
milk powder (you can use any whole milk powder or goat's milk powder – my favorite)
licorice root powder ( this is optional but I highly recommended it)
finely ground oat flour
---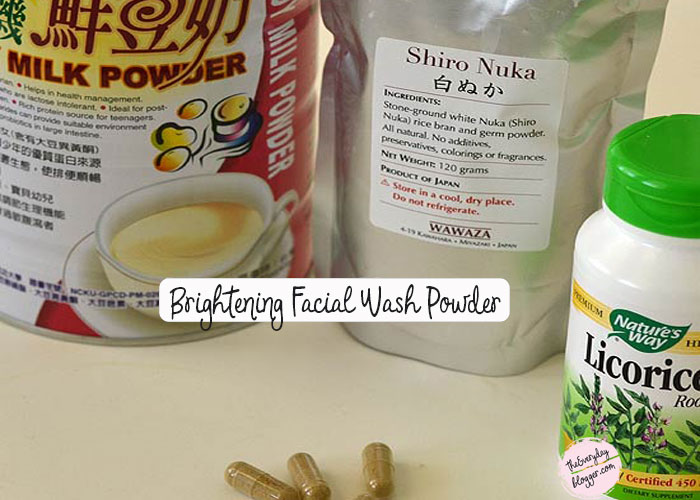 ---
Step by step instructions
① Mix 3 Tbsp rice bran/flour, 3 Tbsp grounded oat flour, 3 Tbsp milk powder and about 1/2 tbsp. Licorice root powder (probably easiest to find in capsule form. I used 2-3 capsules, gently broken open (discard the capsules).
② Mix and put through a sifter if the milk powder is clumpy.
③ Store in a container and just take enough amount for daily use.
---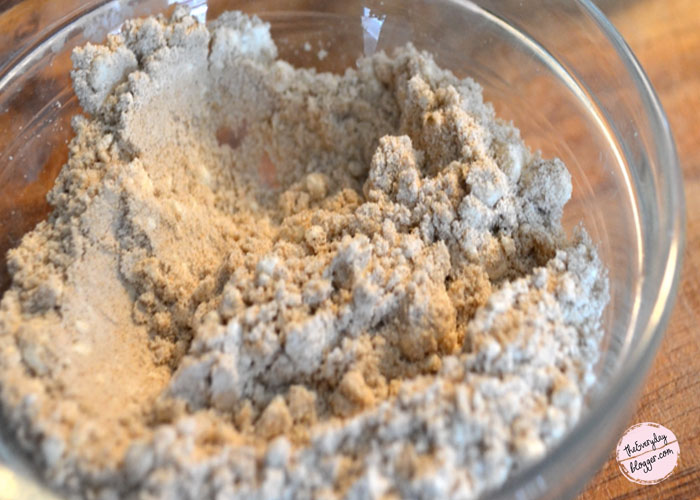 ---
How to Use the Facial Wash:
① Remove makeup first, if wearing makeup (I normally do the oil cleansing method to cleanse my face).
② Mix about 1/4 tsp powder with lukewarm water to create a paste-like consistency (or your favorite gentle, baby facial wash) and massage gently over damp skin about 1 minute.
③ Rinse, and pat dry. (You can also mix into a thicker paste by adding distilled water and leave on your skin for 10-15 minutes as a mask.) Apply your favorite moisturizer.
---
The Result:
Results are noticeable for the first used as your skin feels smooth and soft to touch. One thing I love about this facial wash, it is not drying and this became my daily facial wash routine ever since and couldn't be happier.
This is one of my must-have facial now because it's natural, cheap hence it cleanses my face well.
*** If your skin experience some irritations due to milk powder. Obviously, you have a milk allergy and therefore should discontinue using this DIY facial wash immediately.
"The price of success is hard work, dedication to the job at hand, and the determination that whether we win or lose, we have applied the best of ourselves to the task at hand".