Wrinkles are natural part of the aging process, but that doesn't mean you have to have them earlier than you should or as many of them.
Everyone wants to have firm, plump wrinkle-free skin, but aging weakens the connective tissue, while also damaging the fibroblasts that produce the elastin that gives your skin it's elasticity and
collagen that's the connective tissue that prevents wrinkling.
---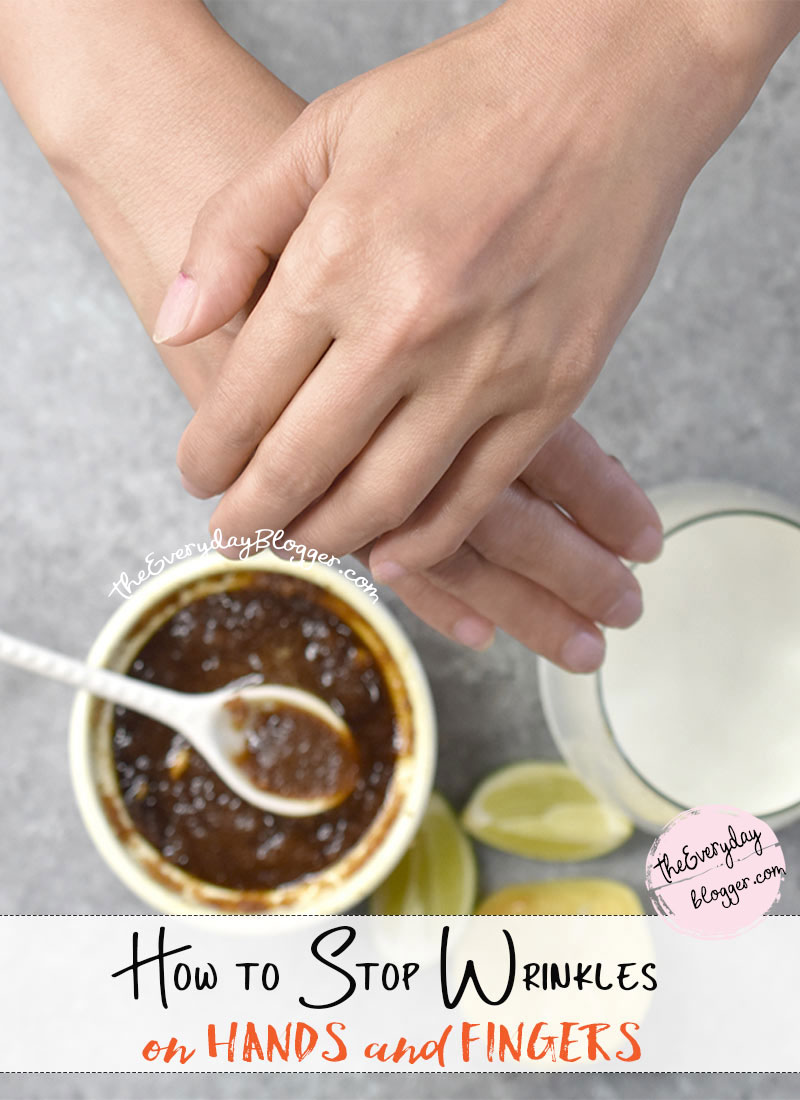 ---
Age Is Just One Factor
Other factors, such as too much exposure to the sun, smoking, some drugs, malnutrition, environmental conditions and other factors can also cause your skin to prematurely age.
Most people notice the effects of aging first on their hands and feet. That's because there is far less fat on the backs of the hands and feet, so aging shows more quickly. Unfortunately, most people fail to focus their attention on these areas but spend more time on their facial area.
---
Why These Ingredients?
Just like on the face, a good scrub, exfoliation and moisturizing help delay the visible appearance of aging and wrinkles. Treatment with warm water and Baking Soda first can help the skin absorb moisturizer quicker, while also softening the skin.
Lemon is also good for the skin. It removes age spots and exfoliates gently. Sugar makes a great scrub aid in the exfoliating process. Milk is an antioxidant that provides various nutrients.
It's a great rinse for the hands because it also contains lactic acid to aid in removing dead skin cells and omega fatty acids to create a moisture barrier and nourish the skin to minimize wrinkles.
---
3 Process to get soft, wrinkle free hands and feet:
Step #1
Prep Your Hands
To make our hands absorb moisture, place hot/warm water in a bowl or container that can fit both hands (make sure the temperature is bearable).
Then add 1 tbsp of baking soda and soak your hands for about 10 – 15 minutes. This process will soften the skin and helps to absorb moisture.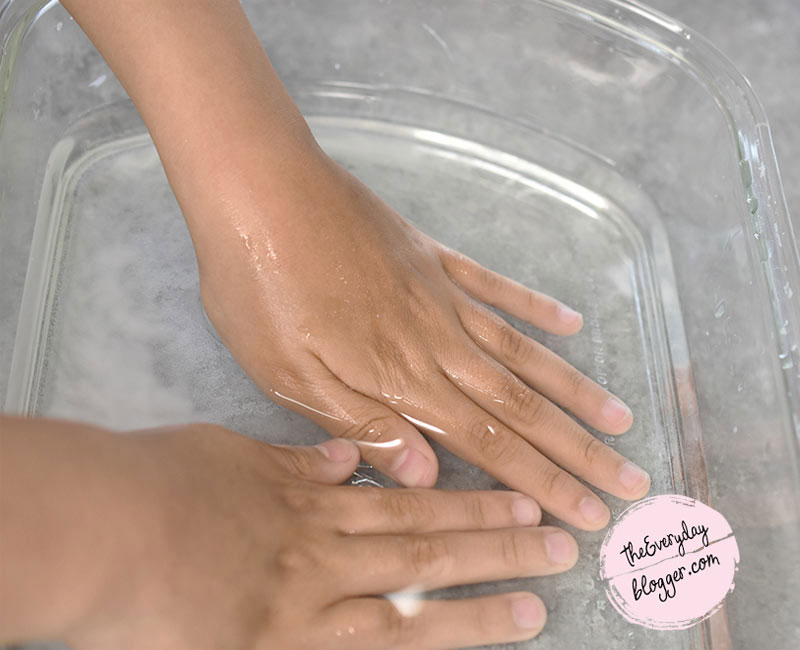 Step 2
Scrub to Exfoliate
* After that, squeeze the juice of half a lemon or lime and add 1 tbsp of brown sugar ( you can add more sugar to make a scrub, depends on the amount of lemon juice).
* Mix and soak a cotton pad or cotton ball and gently scrub on both hands and fingers. Let it sit for 15 minutes and rinse.
* Lemon works amazingly in getting rid of suntan and dark spots as well as fine lines while sugar acts as an exfoliator to remove dead skin cells.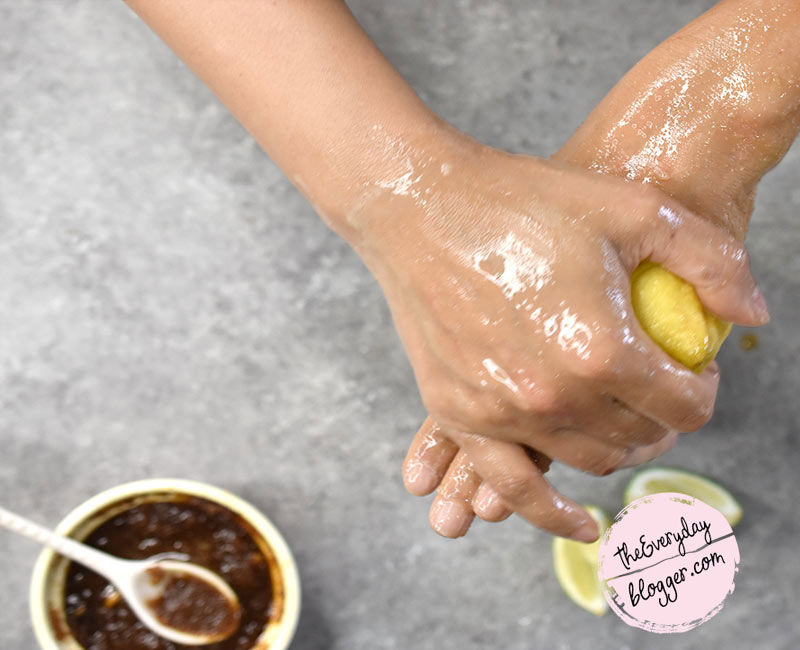 Interesting Reads:
Step 3
Soak and Scrub
Now, once again soak your hands in a (pleasantly warm) bowl of milk for about 10-15 minutes.
But what I like to do (and find it easier) is to soak a lemon wedge in warm milk for a minute or 2 and scrub it on your hands and fingers.
Just continue the process by dipping the lemon wedge in the milk and gently scrub it on your hands and fingers.
After gentle scrubbing, massage your fingers in a circular motion for about 1 or 2 minutes and rinse.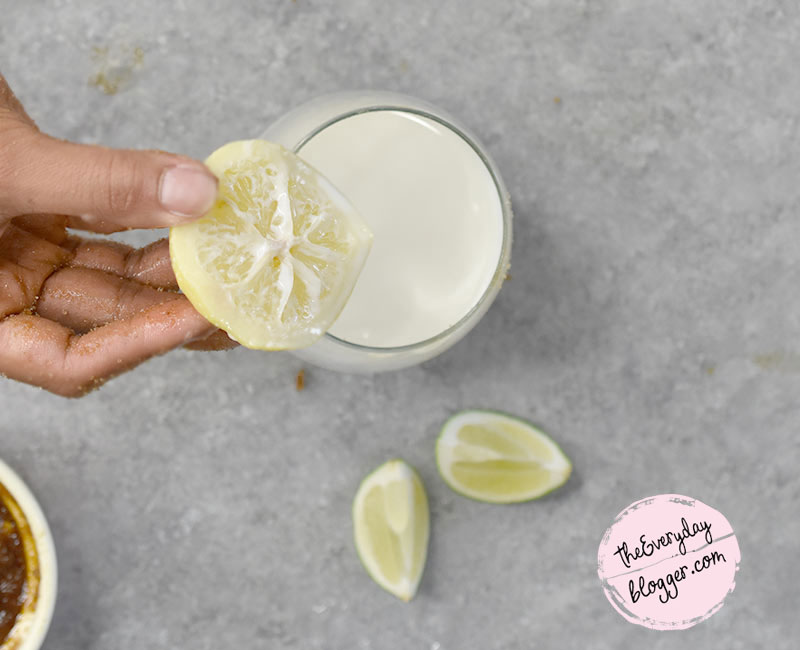 The lactic acid found in the milk actually makes a great natural exfoliator, sloughing off those dead cells and leaving our skin smooth and soft.
The whole milk contains fats that moisturize and hydrate the skin plus calcium, vitamin A and vitamin E that nourish the skin cells (nails, too).
This Recipe is also Applicable as a Foot Soak:
* You may feel too much indulgence considering the amount of milk being wasted. But fret not, you can use the mixture on your feet as well. You can also check the other method on how to get a baby soft feet here.
* Doing this will make your tootsies and cuticles surprisingly soft. Just follow the same process, and you're off to very soft, feel like a baby's bottom feet! Or maybe even softer.
Fear keeps us focused on the past or worried about the future. If we can acknowledge our fear, we can realize that right now we are okay. Right now, today, we are still alive, and our bodies are working marvelously. Our eyes can still see the beautiful sky. Our ears can still hear the voices of our loved ones.